>
>
Housing First – San Diego
HOUSING FIRST – SAN DIEGO
SDHC's Homelessness Action Plan
(619) 578-7768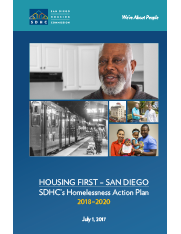 The San Diego Housing Commission's (SDHC) homelessness action plan, HOUSING FIRST – SAN DIEGO, is an effective, diverse funding and housing strategy that has created thousands of housing opportunities for individuals and families experiencing homelessness in the City of San Diego.
HOUSING FIRST – SAN DIEGO is rooted in the national "Housing First" model of addressing homelessness – to provide individuals experiencing homelessness with housing as quickly as possible, with supportive services as needed.
The current phase of HOUSING FIRST – SAN DIEGO launched on July 1, 2017. It builds on the accomplishment of the previous phases of this homelessness action plan, which launched on November 12, 2014.
More than 11,014 housing solutions created